Well Hello…. I'm Sarah and I am Nevil Road Designs.
I live in Shropshire in the shadow of the Wrekin Hill and I work from my garden workshop. I am an upholsterer who likes nothing more than finding an old chair that needs some love and attention. It also helps that I LOVE fabric and choosing the right one can really make an old chair sing!
I upholster chairs to sell at Made in Shropshire markets but I also take on upholstery commissions for people who have family pieces or one off finds of their own. Maybe you have an old chair, sofa or footstool that needs a new lease of life? Using fabrics that excite me, I also make cushion covers and lampshades…. Homewares that reflect personality and spirit. 
I offer free estimated upholstery quotes from photographs or free local consultation visit. If you like my work, please pop to a market to say Hello or contact me to make an enquiry.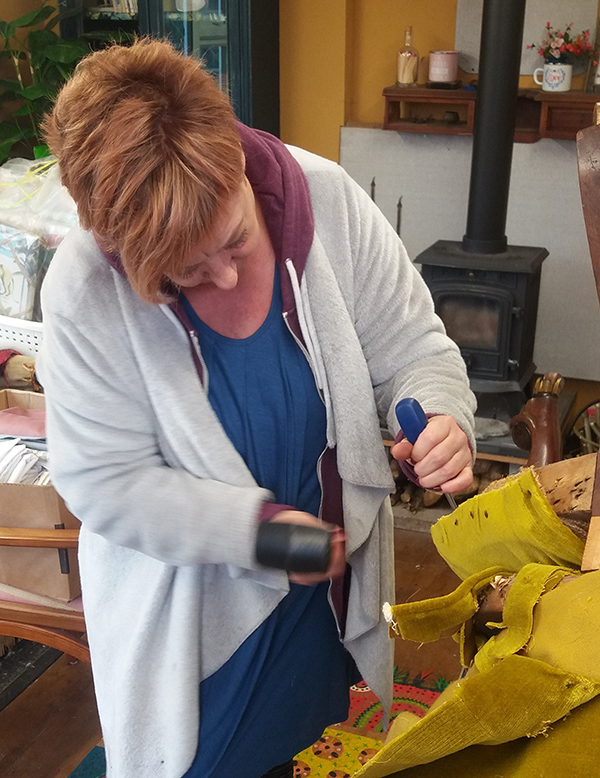 Every Nevil Road piece is made with love, care and attention. My customers really treasure whatever they buy. 
"Sarah was lovely from start to finish. Great advice and not pushy. My chair and sofa look amazing. No hesitation in recommending Nevil Road Designs"…Liz 
"Outstanding, helpful and professional customer service. My chair has huge sentimental value , it was so important that it's transformation felt right and it did"…Mandy
"Sarah produced a beautiful piece of furniture that will always be in my life"…Katy